Glam Boutique Spa
, a 900-square-foot jewel boxlike space in Woodland Hills, California.
RELATED: One on One With Elina Fedotova, Founder and CEO of Elina Organics
The Glam menu features lash and brow services, spray tanning, waxing and a range of results-oriented facials. Featuring high-end lines such as Epicuren, PCA Skin and Intraceuticals, the services at Glam represent Faulk's serious dedication to skin care, just as her highly trained lash and brow experts—who favor products by Bella Lash and Sensa Lash—reflect a level of expertise in all things cosmetic.
Although it's early in the game, Faulk is proving herself to be a fast learner, and she credits a group of wise and accomplished friends with keeping her on the right path. But there's no doubt that this risk-taker's unerring sense of style and branding are serving her in good stead. The mom of four daughters recently sat down with DAYSPA to discuss the motor behind her ambition.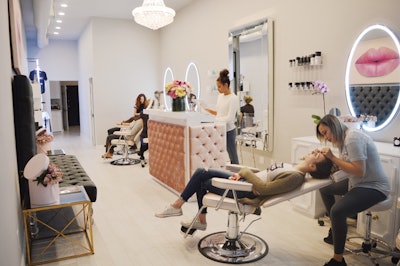 On creating a showplace: When I was in interior design, I was always working from other people's visions. With Glam, I got to create my own. During a trip to the Four Seasons in Orlando, Florida, last summer, I noticed these lovely backlit mirrors in the bathrooms at the pool. I found out where they were sold and ordered them for my spa. I also fell in love with the furniture in a Miami boutique, Sparkle & Shine Darling, which is owned by a friend. So I found some similar reclining makeup chairs on spaequip.com, sent fabric to SpaEquip and they made the chairs for me. Everything has turned out more beautiful than I'd ever dreamed.
RELATED: Professionals Choice Awards – Skin & Face Winners
On assembling a team: I have three lash and two brow employees who are also licensed estheticians. They're awesome. We talk a lot about how important it is to encourage clients to tell you what they need. People today want to feel cared for, and part of our job is to take a little bit of weight off whatever they're going through in life. So I want the staff to not only be confident and knowledgeable, but also understand how to communicate with clients so they leave the spa feeling beautiful, happy, refreshed and pampered. We're working on this all the time.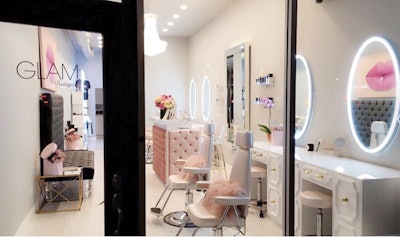 On goals, big and small: In the short term, we just want to spread the word that we're here and we're a five-star business. We plan to offer more makeup services and products soon, and hire an in-house makeup artist. In the long term, I want to franchise! It would be great to help women all over the country feel wonderful with facial, brow and lash services. But I know everything will take time, and that's fine with me. I don't doubt for one second that this is exactly where I'm supposed to be.
On taking the leap into ownership: I kept putting off opening my own business because I was a mom, which is so demanding in itself. But when my youngest child was ready for preschool, I decided to just dive in, reasoning that everything would work out. And sure enough, I found a space in Woodland Hills near a friend's clothing store, and I went forward from there. The funny thing is, so far I find being a business owner easier than being a mother of four. When the kids start to grow up they have these crazy schedules: soccer, tutoring, prom—it's 24/7. Owning your own company doesn't have to be. Of course, as a first-timer I'm constantly learning, thanks to the people around me.
–by Linda Kossoff
Creativity takes many forms, and Lindsay Faulk seems determined to explore just about every one of them. The Indiana born entrepreneur enjoyed a high-profile stint in interior design, working in L.A.'s glamorous celebrity homes market before deciding to redirect her love of all things beauty toward the spa industry. A few short years later she became inspired again, this time to create the kind of mecca that she herself would frequent as a client: a luxurious yet warm and intimate esthetics spa. In November 2016, Faulk opened