Customization is more than trending—it's evolving. In the retail world, it has matured from monogrammed towels to designing your own sneakers and even making personalized lipstick shades. In the spa sector, business is increasingly going beyond simply waving aromatherapy scents in front of clients' noses to creating products and experiences tailored just for them. The beauty of blending bars is that it gives guests an immersive, hands-on opportunity to be involved in—and understand—what they're purchasing, whether in the treatment room or as a take-home item. Offering this one-two punch of customization and participation can set you apart in the spa industry, and be a serious boon to your bottom line. No wonder so many establishments are jumping aboard the blending bar bandwagon, and cashing in on the cachet.
Mixing it Up
Blending bars are not one-size-fits-all; spas have the ability to create something wholly unique that reflects their setting, scope, aesthetic and approach. At Ãwili Spa and Salon at Andaz Maui Wailea in Hawaii, tropical smells greet clients, who can select locally harvested ingredients like plumeria, green coffee berries and Maui sugar cane to create unique oils and scrubs as a $55 enhancement to body treatments. What's more, the spa includes a custom blending experience and take-home product in each of its Journey packages, which take 2.5 to 6 hours and range from $410 to $700. Jackie Yulo, director of spa and resort retail operations, says guests love being able to touch and smell the product prior to their treatment. "It's the best way to start involving their senses before the service even begins," she continues. "We love that we can break down the barriers between our guests and therapists in this way."
RELATED: Spa Pros Shed Light on the Benefits of Using Aromatherapy
Inspired by an old-fashioned apothecary and the location's natural surroundings, L'Apothecary Spa at L'Auberge de Sedona in Arizona also allows clients to participate in a custom-blending experience (30 min./$35), in which they select local botanicals such as rosemary, juniper and piñon pine, and mix them to create herbal bath soaks and body scrubs for at-home use. "It doesn't take much to entice newcomers; the blending bar is right there to see and smell," says spa director Catherine Powers. "It also allows more tenuous guests to have a personal experience and ask questions they might not feel comfortable asking otherwise."
Tailor-Made Treatment
At some spas, clients do all the mixing themselves; at others, the staff whips up bespoke blends based on spa-goers' preferred aromas and goals. Spa Ojai's Artist Cottage & Apothecary in Ojai, California, is an independent space with a counter and a palette of 35 different essential oils, where guests create a custom scent that staff members turn into a take-home linen spray, body butter, sugar scrub or perfume roller ($35-$55). They offer small group blending classes (90 min./$120-$150 per person), as well, and plan to have open studio hours where walk-in clients work one-on-one with a trained aromatherapist. "It's so timely because people are looking for natural approaches to wellness, and essential oils are a foundation for that," says spa director Kate Morrison. "It's not just about offering a scent they like—we convey a deeper understanding of how each essential oil can benefit their mood, body and balance." These classes serve as a perfect bonding experience for mother- daughter duos, retreats and bridal parties, adds Morrison. "In terms of giving guests a unique, memorable experience, it's invaluable," she notes.
But spas don't have to go to the trouble of hiring an aromatherapist or curating scents and ingredients. Companies like Salt of the Earth, Body Bliss, and Bodhi + Sol offer wholesale blending bars to minimize time and guesswork. "Our blending bar is 100 percent organic and contains 18 essential oils to customize treatment oils, whipped body butters and creamy body polishes," says Chelsea Jo Conard, cofounder of Bodhi + Sol. "It's used for backbar and retail, and clients can choose one of our nine blends or create their own." Guests walk away with know-how, a product in hand and often a spa service that goes beyond skin issues. "Essential oils can help enhance the therapeutic benefit of body treatments—from stress reduction and mood enhancement to pain relief," explains Conard.
Ingredient transparency is another plus. "Half the battle of selling spa products is understanding what's in them and avoiding unnecessary ingredients," says Jessica White- Padgett, founder of Fresh Spa Market in Wichita, Kansas, which mixes from- scratch scrubs, soaks, masks, bath bombs, body sprays, lip butters and more—all vegan and paraben-free— for retail and in-house treatments.
RELATED: The Benefits of Using Spirulina in the Treatment Room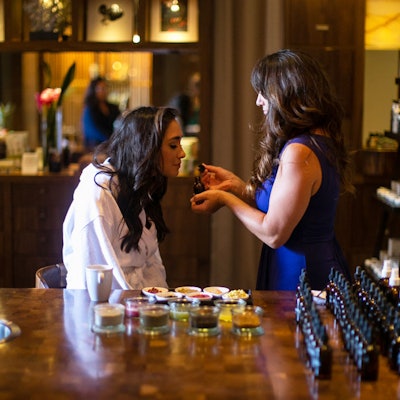 Scentsational Sales
Regardless of the blending experience offered, the resulting customized products and services have a positive effect on business and profits, particularly when you consider that it doesn't require a lot of commitment from clients, nor a separate room or licensed therapist. Ultimately, it's about creating demand and generating repeat business. "Most of the time, guests come out of their treatment and want to re-blend a product to bring home for themselves or a loved one," notes Yulo, adding that Ãwili retails these items for $20 to $70 with a 75 percent profit. Like most spas offering custom blending, they also keep client recipe cards on file for future ordering. "We receive calls annually from repeat guests on the mainland requesting that we make their product for them, because they love it so much," says Yulo.
Fresh Spa Market retails products for $4 to $15 with a 15 percent markup— and White-Padgett says the lower prices translate to repeat visits. "By making our services more unique with custom scenting and affordable pricing, we attract and maintain a loyal client base," she explains.
Of course, receiving a healthy return on investment is important, but that's not always the primary purpose of blending bars. "Our focus is on creating an experience guests can't get anywhere else," says Powers. Mission accomplished.
– by Allison Young
This story first appeared in the March issue of Dayspa magazine. To receive the magazine, click here to subscribe.
DIY blending bars are generating buzz—and business—in spas across the country.