Rockbridge
Associates found that participation in the on-demand economy increased by 66 percent between 2016 and 2017, with consumer spending in on-demand health and beauty jumping from $4.6 billion to $5.5 billion.
Beyond catering to time-pressed clients or those who simply crave the comfort and convenience of an in-home service, spa pros are also discovering that they can turn a healthy profit by targeting a wide range of other off-site individuals—from corporations seeking in-office wellness services for stressed employees, to housebound folks who may not be able to swing a spa visit due to health or travel issues. Add pampering parties and other special occasions to the equation and, needless to say, going mobile can open up a serious revenue stream for the savvy spa pro.
Appealing to Plenty
There's no shortage of people who want—or need—a spa treatment to come to them. Oftentimes they don't want to deal with traffic or would simply rather be pampered in the privacy of their own homes or hotel rooms after a stressful week, says licensed massage therapist and esthetician Julie Corey, owner of Walk In Beauty Spa and Wellness in Newbury, New Hampshire, who launched her mobile business in 2013. "Sitting in the car before or after you've visited a day spa isn't relaxing," agrees Monica Kenyon, owner of Unwind Mobile Massage and Spa in Los Angeles. She adds that mobile services appeal to new moms and busy professionals who don't have a lot of time to get to and from the spa.
Some of those busy professionals are receiving mobile services in their offices, thanks to the increasing number of companies offering wellness programs, notes Lisa Weeks, a licensed massage therapist, nail technician and owner of Love Thyself Day Spa in Richardson, Texas. "In addition to spa services, we provide retreats, health seminars, lifestyle counseling and more to our corporate clients," says Weeks, noting that she's well versed in naturopathic medicine and holistic nutrition.
RELATED: Industry Leaders Reveal the Trends and Challenges in the Spa World in 2019
Meanwhile, Kathy Peper, owner of To Your Door Spa and Salon in Tigard, Oregon, started her business to meet the needs of senior citizens who couldn't make it to a salon due to declining health or lack of transportation. "We've developed ways to shampoo, cut and even color hair for those who are bedridden," says Peper. "I have a talented team of therapists who specialize in senior massage—they understand that older clients need a lighter touch but still have plenty of knots after sitting or being in bed for long periods of time."
Mobile spas also offer the opportunity for groups or couples to receive services simultaneously, which isn't always possible in a traditional spa setting. Since Newbury is a tourist town, Corey often gets requests from people who are visiting the area and want to book massages for their group, whether they're celebrating a birthday, bachelorette party or family reunion. "We've also partnered with local inns that don't have an on-site spa to put together seasonal packages," adds Corey.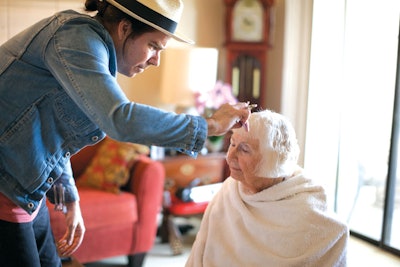 Making Money
One of the advantages of launching a mobile spa business is the lower overhead cost. Peper notes that expenses such as rent or mortgage and utilities, as well as higher insurance premiums, deterred her from opening a brick-and-mortar spa. Of course, there are other figures to factor into the mobile business model— including transportation—but pros have figured out a way to price their services to compensate for such concerns.
RELATED: 7 Tips for Boosting Your Spa's Retail Sales
Nadine Eans, owner of C.B.N.'s Mobile Day Spa, serving New Jersey, New York and Connecticut, charges for travel time if the round trip exceeds 25 miles. Typically, other mobile spas charge $1 per mile when asked to travel beyond their designated service area. "Travel time, setup and breakdown are all considered, making mobile services slightly more expensive than those offered at brick-and-mortar spas," notes Kenyon, whose prices range from $140 for a 60-minute massage to $175 for 60-minute facials, guided meditation, tarot readings and henna art. She strives to create
a physical and spiritual balance for a diverse clientele, including those attending conventions, music festivals, company health fairs, family celebrations, film shoots and more.
Weeks customizes pricing based on group size, services requested, amount of time and number of staff required. Typically, though, she charges about $125 per hour. In offering treatments to seniors, Peper charges a minimum of $75 for hair services, which may include a cut, style, color or perm, while nail services— which account for about half of her business—are $65 to $85, and massages are $100 per hour.
Promoting Your Business
Reaching clients tends to be easy for mobile spa pros, especially if they've got a fairly specific target market. In Peper's case, it's all about capturing the attention of the aging population. "For the past seven years, I've advertised in Retirement Connection, a magazine that educates seniors about local services," she notes. "I also network with case managers, social workers and caregivers."
Kenyon, on the other hand, focuses on getting her name in front of corporate clients by attending Chamber of Commerce meetings and partnering with event planners, human resources directors and representatives from boutique hotels. Meanwhile, C.B.N. markets to all sorts of clients, from kids to big companies, with special packages like Little Diva Spa Parties and Corporate Wellness Programs. They also have a generous Refer A Friend Rewards Program, offering a $10 credit for each referral, along with a 10 percent discount for the person who was referred. "Word of mouth and referrals have been a major key to our success," says Eans.
In many ways, offering a mobile option means your services practically market themselves. As the aforementioned NTR survey noted, awareness of on-demand services nearly doubled between 2016 and 2017, with consumers increasingly seeing advantages to using such options. As that awareness continues to grow, so too will the moneymaking opportunities available to mobile spa pros. "When people hear about mobile spa services, they're blown away by what a magical idea it is and want to try it, but have trouble justifying the higher cost of home delivery. However, once they take the leap and realize how convenience enhances relaxation, they love it and want to continue getting spa services delivered to their doorsteps," enthuses Kenyon.
–by Linda Childers
In today's busy world, where people expect to get just about anything delivered on demand, it makes perfect sense that mobile spa businesses are booming. In fact, a National Technology Readiness survey conducted by