Professional Program Insurance Brokerage
(PPIB).
Of course it's not just litigious clients who make insurance a must. "Landlords typically require you to cover the space you lease, states require you to protect your employees, and some licensing boards require you to protect the public," says Etter. "The biggest driver, though, should be that anyone who has put a great deal of time and money into their spa must protect this valuable asset." Here's how to guarantee that you've got the coverage you need.
Primo Protection
According to Etter, all spas should have three main types of insurance: professional liability in the event that something goes wrong during a service; general liability to cover on-site slip-and- fall-type claims; and property coverage to safeguard equipment, merchandise and supplies, as well as loss of income if the facility incurs any damage.
The specifics of what's covered by a policy will vary from one carrier to another, so spa owners should review the details with their insurance broker to avoid any surprises, notes Kathy Lopez, account manager for Salon & Spa Specialty Insurance (SASSI). "Depending on the diversity of the spa, it's important to make sure that all services performed are covered," she says, adding that whenever a new treatment or procedure is introduced or more employees are hired, the owner will probably want to increase coverage, resulting in an additional premium.
RELATED: 4 Software Programs That Will Help You Streamline Your Spa Business
If you have independent contractors or booth renters, you should expect them to carry their own insurance, says Gianna Michalsen, content marketing specialist for Elite Beauty Insurance, which offers policies for the individual, including professional and general liability coverage, product liability, rental damage, stolen equipment and identity theft protection. The policies are fully mobile, adds Michalsen, so they follow pros to their jobs at spas, clients' homes or any other location.
Whichever carrier you choose—as a spa owner or as an independent contractor—Michalsen emphasizes the importance of having a policy with "occurrence" versus "claims made" coverage. She explains that the former type offers protection for an event that happened when you had insurance, even if the claim is filed after the insurance has lapsed. "Claims made" policies only cover claims filed when you have an active insurance policy. "Research shows that 36 percent of claims would not have been paid out on a 'claims made' policy," says Michalsen.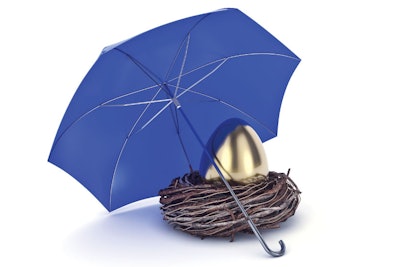 Money Matters
The annual cost of an insurance policy varies greatly, depending upon the size of the spa, selected limits and claims history, as well as the number of service providers, types of services offered and gross revenue. "It's best to find an insurance agent who thoroughly understands the spa industry and can put together a competitive package," Etter says. "Most of these policies are not one-size-fits-all and can be customized to the needs of the individual business."
RELATED: Apps That Can Help Enhance the Client Experience and Boost Business
That said, the average day spa owner pays about $425 annually for a general liability policy, while professional liability insurance can average a bit more at $500 a year. Oftentimes, it makes more financial sense for small-business owners to get a business owner policy, which bundles several types of coverage together for a discounted annual premium.
Common Claims
As noted above, there are quite a few reasons that spa clients might file lawsuits. "It could be a laser burn, an infection after waxing or sexual misconduct during a massage—but regardless of who performed the treatment, most people will name the spa in the lawsuit," notes Etter. While not an attorney, she says that the business could very well be liable—especially if proper protocols haven't been followed. "Even if the spa isn't ultimately liable, it could incur legal costs for its defense," she adds.
If a client is merely unhappy with a service, Etter still recommends that a spa notify its insurance company immediately. "If the problem is solved with a refund, for instance, the insurance company can typically assist with preparing a release form to prevent the claimant from coming back for more money at a later date," she explains.
As with virtually any kind of insurance, after a claim has been filed, the premium and/or deductible will increase when the policy is renewed. "Typically, the cost and details of the claim, along with whether or not the spa was truly negligent, will all be considered when calculating any increase," says Etter. "Most carriers evaluate claims for five years after the date of the loss." If it's clear that a spa doesn't have good business practices or technician training in place, it could wind up with multiple claims in a very short period of time. "Most carriers won't continue offering insurance to those spas—but if they do, you can bet the premium won't be cheap!" says Etter.
Without the proper insurance, a spa can be put out of business by a claim—whether legitimate or frivolous— warns Lopez. "Insurance allows you the peace of mind to stay up and running, while the insurance company handles any unforeseen problems that could otherwise be disastrous to your livelihood," she adds.
–by Phyllis Hanlon
From hiring the best staff to reaching your coveted clientele, there are a lot of basic requirements that come with owning and running a successful spa business—but arguably one of the most important is carrying the right kind of insurance. After all, the unfortunate reality is that lawsuits are fairly widespread in the industry. "Usually it's an accusation of negligence during a service," says Susan Etter, vice president of underwriting at