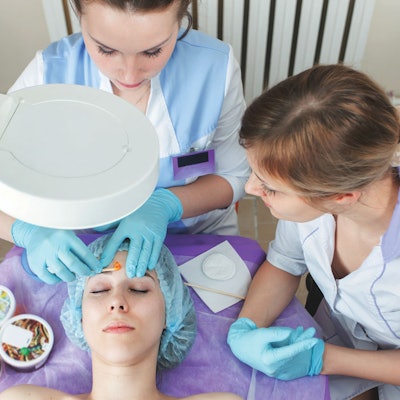 As every spa owner or manager knows, ongoing staff training is a crucial part of running a profitable business. It not only increases the odds that employees are on top of their game when it comes to treatment protocols, product knowledge and best practices, but it also ensures that they're motivated and invested in their work, as well as clear on what you expect from them.
Such skill-builders can be simple, affordable, carefully coordinated and more than a one-off investment—ongoing opportunities that will benefit everyone on your team and, by extension, your clients. The specifics will obviously vary, depending upon each staff member's service specialties and job responsibilities, but done right, these training sessions will effectively boost your bottom line and employee retention.
Be Practical
Typically, spa staff will have already gone through a practical interview prior to being hired, during which they perform a service for you—or even on you. These sorts of demonstrations can be revisited each time employees receive training on a new job duty, practice or protocol. After all, seeing staff in action is the only sure way to know that they've truly mastered the skills they've just been taught. "I tell them, 'Treat me like a brand-new client,'" says Felicia Brown, LMT, a spa and wellness business consultant and owner of A to Zen Massage in Greensboro, North Carolina. "I'm seeing if they're asking the right questions, and listening and responding to comments." Brown also makes observations about whether or not she feels safe and respected as a client. "And, of course, I'm taking note of their massage technique," she adds.
RELATED: 7 Tips for Boosting Your Spa's Retail Sales
Tracy Whynot, owner of Place 360 Health+ Spa in Del Mar, California, puts her chiropractors, estheticians, acupuncturists and nutritionists through practicals, plus she performs role- playing exercises with front desk staff to see how they handle specific questions and di cult clients.
Meanwhile, at SkinSpirit Skincare Clinic & Spa, with several locations in California and Washington, estheticians spend months performing services on friends and family members before they're allowed to book clients for each new treatment on which they've been trained. They start by learning the spa's signature facial. "After perfecting that, we go to our manager for the next piece of our training," says clinical esthetician Mailee Jones, adding that they're required to demonstrate each more advanced technique they learn, from dermaplaning to microneedling.
Take It Outside
Brand ambassadors and educators, along with other consultants and industry experts, can bring a new and beneficial dynamic to training sessions, says Brown. "It's the difference between listening to your mom or an aunt," she explains, likening trainings led by a spa manager to parental lectures that employees could be more inclined to tune out. "An 'aunt' can engage the staff in a way that you might not be able to as their 'parent.'" Indeed, according to one survey of spa directors and owners conducted by Bloom Training, respondents reported that more frequent vendor training was not only good for retail sell-through, but also created a bonding, team-building environment.
Vendors and brand educators are usually motivated to familiarize spa staff with their products so they can better sell them, so find out what they o er in terms of training. Although some may require a minimum order, if the products and services are ones that do well with your clients, it could be worth meeting those minimums, says Yenier Marrero, director of spa & fitness at Naples Grande Beach Resort in Florida. Just make sure any outside educators are familiar with the local and state laws governing certain treatments and procedures, and that the course information meshes with your own protocols.
RELATED: Tips on How to Raise Your Spa Menu Prices
Outside trainers can also fill in gaps in areas where you may lack specific knowledge. "My weak spot is marketing," says Brown, who brings in experts to teach her staff about such matters, in addition to techniques like gemstone facial massage. She warns that encouraging employees to do supplementary education on their own is unlikely to be effective because "if they have to pay for it elsewhere, they're not going to do it." That said, it can be helpful to take staff o -site for "field trips"—Whynot and her employees attend the Live Love Spa conference in San Diego every year, and she says the experience is always great for building camaraderie, in addition to learning. "Team visits to Live Love Spa allow all staff to have input on new products and protocols," she notes. "We love throwing on our robes, walking around to visit various vendors and experience different services. It always takes place at a beautiful resort, so we make a day of it, have dinner afterwards and chat about the offerings!"
Make It an Experience
To further engage your employees, position in-house training sessions as opportunities for them to become more familiar with the business, rather than as mandatory meetings to reiterate rules. For instance, Whynot holds themed meetings each month related to a specific modality offered in the spa so staff can gain a deeper understanding of how each service impacts clients' health and wellness. "My favorite was a case study on chronic pain," says Janelle Chappell, a Place 360 esthetician. "We shared our knowledge from the perspective of each of our professions—how to address chronic pain with chiropractic medicine, acupuncture, diet and massage therapy, as well as how chronic conditions affect the skin—and discussed approaches for treatment."
Front desk and other employees even receive treatments at Place 360 as part of their training. "This helps them understand what each service is best for," explains Whynot. That's also the rationale behind Brown giving her spa staff 50 percent o any services offered at A to Zen. The benefits of this sort of quid pro quo scenario are many—not only do employees get a better sense of the details of each offering, they're also able to assess its benefits from a client's perspective. Plus, assuming the training has been truly effective, the staff members who test-drive the treatments should come away feeling relaxed, rejuvenated and ready for work!
-by Virginia Pelley
---