American Chiropractic Association
(ACA) reports that 31 million Americans experience low back pain at any given time, and that it's a major reason employees miss work. According to a 2009 International Journal of Environmental Research and Public Health study, chronic low back pain was the most frequently reported musculoskeletal complaint resulting in doctor visits and job absenteeism among more than 100 cosmetologists, beauticians, estheticians and massage therapists. Further, a 2016 International Journal of Therapies and Rehabilitation Research study of massage therapists found it to be the most common disorder resulting from bending and sitting, as well as from working at least six hours a day, or more than eight years in the industry. Here, we delve deeper into what spa owners and staff can do to nip back pain in the bud.
Around the Bend
It isn't surprising that back problems are prevalent among spa pros, considering many often find themselves crouching over clients, awkwardly reaching for equipment, or sitting for prolonged periods of time—three key contributors to musculoskeletal complaints in the aforementioned 2009 study. "Anyone who repeatedly performs the same movements and maintains the same postures on a regular basis will develop muscle 'imbalances,' or differences in strength and flexibility between opposing muscle groups," says certified fitness trainer and rehabilitation specialist Jesse Cannone, cofounder of The Healthy Back Institute in Austin, Texas. "After a while, these imbalances cause painful postural dysfunctions."
Bending over clients can be particularly problematic. "When leaning forward, the posture begins to rely on ligament tension rather than muscle tone, which prompts people to arch the lower back because it's tired," explains Cannone. "Over time, this creates a forward tipped pelvis." This condition is known to result in back pain, among other ailments. For this and other postural problems, if the mounting pressure isn't relieved, it can lead to more serious issues such as herniated and bulging discs, and sciatica, warns Cannone.
RELATED: Top Continuing Education Courses for Spa Professionals
Beyond physical factors, emotional stress can also contribute to back pain. The late John Sarno, MD, who was a professor of rehabilitation medicine at New York University School of Medicine, was so convinced of this mind-body connection that he developed the concept of the psychosomatic "tension myoneural syndrome," in which physical aches and pains are believed to be caused by emotional rather than physical problems. Cannone says the notion does have merit, in that stress can make us vulnerable to illness by compromising our immune system, and increase pain by promoting chronic inflammation. Compound these issues with other risk factors—which include being overweight and a lack of regular exercise—and it's easy to understand how back pain can quickly become a problem.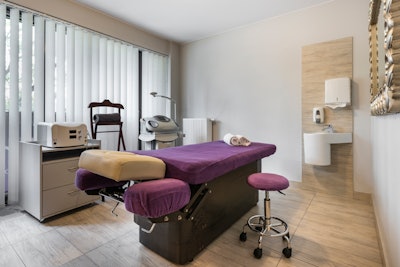 Straighten Up
Although massage therapists are urged during their training to stay in good physical condition to maintain a long and healthy career, and they're educated in techniques to protect themselves from injury, certain on-the-job scenarios can still lead to back problems. For this reason, it's important that supervisors pay close attention to all employees' ergonomics and make adjustments accordingly. That includes recommending specific techniques and postures during services, as well as providing the right furniture and equipment.
The size and shape of workspaces, plus the positioning and dimensions of furniture and equipment are key considerations for fending off back pain. The setup of treatment beds is a good example. "Healthy posture is impossible if the bed isn't the right height," points out Leah Lynch, owner of Beautique Salon & Spa in Newburyport, Massachusetts. "If the bed is too low, therapists have to hunch over the client, and if it's too high they'll have to strain." Since no one height works for everybody, Lynch suggests investing in adjustable beds. She also recommends ergonomically correct chairs, along with full-spectrum lighting when needed, "so that estheticians don't have to bend to see better." Mackenzie MacDonald, spa director at Miraval Life in Balance Spa in Dana Point, California, encourages owners to involve staff in the selection and trial of furniture and equipment to ensure ergonomic harmony.
RELATED: New CIDESCO USA Skin Care and Body Therapy Certificates Available
Even if your employees learned proper posture and self-care practices in school, providing additional resources will go a long way, too. For instance, Miraval offers a body mechanics class to its massage therapists. "The course incorporates hands-on best practice demonstrations to ensure everyone knows how to adjust table height as well as body position and movement, encouraging correct angles and leverage to protect the lower back," explains MacDonald. Owners can also o er guidance on a smaller scale: Lynch advises her staff to use their time between clients to stretch forward, backward and to the sides.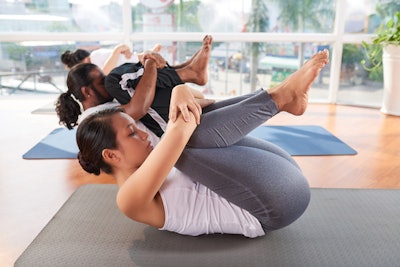 Meanwhile, if employees are stressed out or struggling with other risk factors, helpful solutions may include establishing a more manageable schedule, as well as recommending self-care practices such as exercise, meditation—and, yes, regular massage. All of Miraval's 55 weekly yoga, fitness and meditation classes are open to therapists "to encourage a holistic approach to injury prevention," says MacDonald. "Yoga especially helps improve flexibility and posture awareness."
Clearly, addressing the issue of back pain among spa workers requires a proactive approach, which could even mean insisting that certain pros see a physician. If a formal diagnosis is made, what happens next will depend on whether the problem is solely musculoskeletal in nature or involves internal structures such
as spinal discs and/or nerves. Treatment options may include rest, exercise, ice, heat, body supports, anti-inflammatory medication or physical therapy— and in cases of structural problems, steroidal injections or surgery might be recommended. If the prognosis is good, an engaged and caring spa owner will find ways to accommodate whatever needs come with a valued staff member's recovery.
–by Linda Kossoff
It's the ultimate irony: While encouraging client wellness, spa workers may wind up suffering their own painful—even debilitating—back problems. The