International Spa Association
(ISPA). These days, of course, expedited offerings go well beyond appealing to those on a tight budget—they also attract busy clients seeking a quick pick-me-up, those who want to complement a lengthier service, or guests who'd prefer to sample a treatment before committing to the full experience. These convenient options can be a real boon for business, and a number of spas are already translating the trend into serious profits.
Quick Fixes
According to a September 2017 ISPA Snapshot Survey, nearly half of all spas now offer 30-minute treatment options, and more than 30 percent offer 15-minute services, which run the gamut from massages to facials. For instance, Southern California's Burke Williams recently introduced its flagship Simply Massage location in Marina del Rey—a back-to-basics concept featuring massages only, with durations starting at just 30 minutes ($39 for members, $59 for nonmembers). The business attracts massage therapists who not only enjoy working in a fast-paced setting, but also with clients who appreciate and understand that bodywork is a necessity as much as an indulgence, notes Simply Massage general manager Jeri Sydnor.
In Studio City, California, Spa Lé La has an entire 25-minute Retreat Services menu, with the most popular options being the Bath, Nap Room and Infrared Sauna (each priced at $40). "People love to take a bath before a massage to warm up their muscles, or an infrared sauna afterwards to bring down inflammation," says founder Trina Renea Belton. "Others prefer to remain on the massage table for a 25-minute nap."
RELATED: Spa Pros on Adding Permanent Makeup Services to Your Spa Menu
Skin Laundry, which has expanded to 22 locations from Los Angeles to London since first opening in 2013, offers just one signature treatment: a 15-minute laser and light facial ($65). "We're seeing a trend of one-service business models, especially in the spa industry," notes Brian Dickerson, manager of the chain's Tribeca and Flatiron locations in New York City. "It allows us to build trust with our clients by doing one treatment and doing it well." Thanks to the popularity of such quick, specialized services, the brand added a Carbon Peel (15 min./$60) to its menu earlier this year.
Express facials are also big business at Three-13 Salon, Spa & Boutique in Marietta, Georgia, where the Repêchage Facial Bar concept was launched in 2008. The Facial on the Go (30-40 min./$56-$65) is touted as a "full facial in less time … with all the benefits of a Signature Facial." Notes Three-13 managing partner Lester E. Crowell: "We had guests who wanted facials but couldn't find the time in their busy schedules, so this is the perfect solution." In addition, the spa's even shorter Quick Fix Treatments (15-45 min./$36-$45) address a wide range of targeted issues from acne to irritation.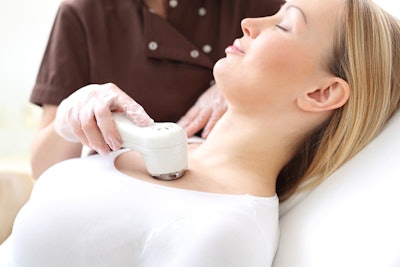 Rapid Rewards
Regardless of the treatment, spas are generating big money with their expedited offerings. Why? For starters, these speedier services tend to be impulse add-ons and are perfect upsells. "Guests can get a last-minute Quick Fix appointment and not have to wait for a longer time-slot to open up on another day," notes Crowell—and Dickerson, too, says that some guests go to Skin Laundry once or twice per week because the services are so easy to squeeze into their schedules. For Spa Lé La, the affordability factor leads to more frequent visits, notes Belton.
When it comes to fast facials in particular, retail sales can add even more income to the equation. "We experienced 18 percent growth in facial services after introducing our express offerings, which increased product sales by 22 percent," says Crowell, adding that the sheet masks they use can be purchased in the retail area. Skin Laundry, too, sells sheet masks as part of its line of everyday essentials, which also includes cleansers and targeted treatments for every skin type. "Retail products currently make up about 25 percent of total sales, but that number continues to increase as we launch new product categories and distribution channels," says Dickerson.
RELATED: How to Prevent Nepotism From Hurting Your Spa Business
Swift Sales Strategies
Unique promotions are crucial for successfully selling your speedy services. For instance, Spa Lé La provides free childcare, allowing moms and dads the ability to unwind without having to hire a sitter. "To make the experience extra special, we give clients complimentary organic teas and co ee, as well as wine and champagne," adds Belton.
Meanwhile, Skin Laundry offers a free first treatment with incentives to continue. "In addition, we've invested a lot in our social media channels, using them to educate audiences on the benefits of our treatments," notes Dickerson. "And we reward clients who refer friends and family, which boosts recruitment."
Membership models also ensure that guests keep coming back. Skin Laundry's "The Laundry Club" includes two facials per month for $110, and four facials per month for $200. At Simply Massage, the $59 monthly membership fee gets customers one 60-minute massage per month, along with membership pricing at all Burke Williams locations. "We've bridged the gap between the day spa experience and our 'in and out' concept by aligning the benefits of our membership programs," says Sydnor. "Members here at Simply are also members at all of our day spa locations, and vice-versa, therefore they enjoy the benefits of each." Three-13's Facial Club has a "buy three, get one free" package. "Guests get 16 weeks to redeem all four facials," says Crowell. "So, they visit more often and really get to see all the benefits of regular treatments."
Ultimately, by offering services that are both fast and affordable, spas reap countless rewards and so do clients—a win-win situation indeed.
–by Marina Kay
Speedy spa services are shockproof. Having filled a void during the recession, when people sought affordable ways to manage stress and maintain their spa-going routines, mini-treatments are proving popular once again, says Lynne McNees, president of the