According to the American Cancer Society, one in every two men and one in every three women will receive a cancer diagnosis in their lifetime. Thus the odds of your spa hosting a client who is a cancer survivor or currently living with cancer are fairly high. Whether you're able to serve such clients safely and effectively, however, depends on how thoroughly you prime your employees to work in this specialized arena.
Preparing your spa for this population doesn't require a medical license or a business overhaul, and there are a number of organizations and programs that help spa professionals learn how to serve and treat guests affected by cancer. With some training, commitment and compassion, you can open up your facility to an important and appreciative clientele.
You'll also enhance your spa's reputation, grow its referral rate, and add untold satisfaction to your staff's workdays.
RELATED: Choosing the Right Sun Care for Your Clients
Before the Appointment
The truth is, if you knew how many clients aected by cancer you see in a month, you might be shocked. "A client who books a spa service isn't necessarily going to share that they're going through cancer treatment or that they're a survivor," says Morag Currin, founder of Oncology Esthetics, president of Oncology Training International (OTI) and esthetic educator. "They might already be so overwhelmed by all the information they've been given and by repeating their story so many times. They may not even realize that they're supposed to divulge those details."
To encourage clients to proer pertinent medical information, Currin suggests you post a note on your website. If you have online booking, create a field that enables them to share such information, provided it complies with HIPAA. When the client arrives, have them fill out a thorough intake form that includes current treatments, medications and reasons for taking them, plus any side eects they're experiencing. Obtain confirmation from them that their doctor has approved the visit. And finally, make sure the therapist reviews the intake. "There mustn't be an attitude of, 'OK, you've signed the disclaimer, now you can have your treatment,'" warns Currin. Armed with the necessary facts, a therapist can properly modify the oncology client's skin or body treatment for optimal comfort and results.
Accounting for Difference
"A spa or wellness facility can embrace all stages of cancer treatment and oer a range of inclusive, nurturing services to accommodate guests," says massage therapist, skincare specialist and educator Christine Clinton, who works with cancer clients in both hospital and spa settings. Beyond skin care and massage, these might include energy medicine and sound therapy, for example.
The success of such services relies on how well the spa has prepared. "Therapists working with oncology clients must make adjustments to three facets: the level of demand, both physical and psychological, on the client; avoidance of certain sites on the body; and the guest's positioning," says Amanda Vassar, director of spa at Lansdowne Resort & Spa in Leesburg, Virginia, whose Spa Minerale has an oncology menu called Road to Recovery. Therapists should also know what to expect, and be prepared to respond appropriately.
Here are a few of the dierences you might find with a cancer- aected client:
Comprised immune system – "These clients are at greater risk of infection because low white blood cell counts have weakened their immune systems," notes Clinton.
What to do: Be scrupulous about hygiene, and take extra care not to break the client's skin. "During chemotherapy the stratum corneum becomes very thin, increasing the risk of skin injury," Clinton warns. "Therapists shouldn't wear jewelry during treatments, and must keep nails short and free of sharp edges."
Medical Devices – People undergoing treatment will sometimes wear a medical device. A port-a-cath, for instance, is implanted near the décolleté area and used to deliver chemotherapy. It may create a visible bump under the skin.
What to do: Avoid it. "The device is sutured down to the muscle, and trained therapists should know to work around it," says Currin. "Never work over a medical device."
Deformities and Prosthetics – A client may have undergone radical surgery resulting in, say, a large dent around the breast area, or they may have a prosthetic where a body part was removed.
RELATED: Use Caution When Adding Dietary Supplements to Your Retail Offerings
What to do: Most treatments can be done for postsurgical cancer clients using modified touch techniques, but the therapist must be psychologically comfortable. Otherwise, "Their discomfort will be communicated and they'll be doing the client a disservice," Currin points out. "Plus, that client will never come back."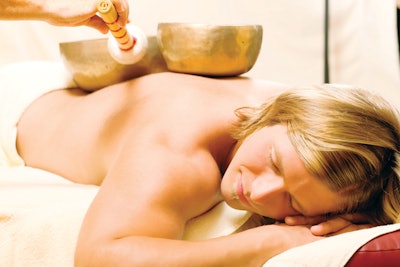 Petechiae and Bruising – Chemo can cause a low blood platelet count, which leads to bleeding under the skin. Telltale signs: bruises and possibly a petechial rash, which looks like little red or black dots on the surface.
What to do: Only a very soft touch should be used, or it might be necessary to postpone the appointment or work in areas not affected by this rash, advises Currin.
Hand/Foot Syndrome – Among the debilitating effects of chemotherapy is a painful condition called hand/foot syndrome, exhibited by hot, burning and painful hands and feet.
What to do: "The contraindications are heat and friction, so no massage," says Currin. "Skin might also be dry and cracked, so try moisturizing with a refreshing mist or patting the skin using cool compresses."
Lymphedema – Clients who have had lymph nodes removed have the potential to develop lymphedema, which presents as swelling and redness in affected parts of the body.
What to do: Anything that causes the skin to redden is a contraindication for areas where lymphedema is present, and services like waxing can tear or burn the aected area.
Hyperpigmentation –  Some chemotherapy drugs may result in hyperpigmentation, but the effects may be temporary. All chemo drugs tend to leave the skin dry and sensitive.
What to do: Aggressive hyperpigmentation products can aggravate chemo-related skin problems. However, a gentle botanical brightener may be appropriate, says Currin.
Sudden Symptoms – Look out for these unexpected signs of distress and, when in doubt, call for medical help.
Compromised breathing, a side effect of certain medications
Fever, due to some cancer clients' inability to regulate their own temperature
Lightheadedness, which can result in falls or fainting
Nausea, which may be in response to aromas from products or candles
Any pain, especially sudden
Finally, Currin reminds therapists that stamina is a common challenge for clients going through cancer treatments. "Keep protocols short," she advises. "Sometimes the person doesn't realize how taxed their body is. A 'spa day' may wipe them out for the next three days."
Training That Works
Currin, who teaches in 11 countries, believes that specialized training should be mandatory throughout the spa industry, but we have a long way to go. In Europe there is a designation called "socio-esthetician" that requires students to attend an educational program in which they're taught to work with people who have physical and mental disabilities and diseases. In North America, there's currently no such designation.
Educating spa professionals poses some unique challenges because they tend to be very hands-on, visual learners. For this reason, Clinton feels strongly about providing experiential training. "We work with oncology nurse specialists, oncologists, dermatologists, local cancer support centers and sometimes family members to source our models for training," she says. "To be present with the guest, to hold space for them and validate their feelings is a huge part of the healing process." In response to concerns about time, distance and money, Currin's program now oers options that include online modules along with classroom time or in-class training.
Of course, not every training program is right for every spa, so you'll need to do some research. Spa Minerale's MTs went through intensive training with Healwell, a nonprofit agency aimed at improving the quality of life for people affected by acute, chronic and terminal illness through integrative, hands-on therapies, education and research. "The program provided our therapists with the knowledge and ability to safely and confidently deliver massages to clients on the cancer journey," says Vassar.
Points About Products
Choosing the right products for cancer- affected clients is a delicate process. Obviously, strong exfoliants and highly active ingredients are not appropriate during active cancer treatment. The Hale & Hush and Martha Health Care lines of products for health-challenged skin were formulated with this population in mind, and Biologique Recherche recently partnered with Wellness for Cancer to adapt its face and body protocols for cancer-aected clients.
Currin, meanwhile, prefers to pick and choose individual SKUs. "I find that Eve Taylor's essential oil blends are safe to use and I like the brand's Hydrosol. I also recommend Canadian company Aquafolia's rescue products," she says. "However, everybody is apt to have a different reaction to products so we have to focus on ingredients. I'm always on the hunt for something unique that works."
Resources
To help you decide on the next steps, here are some places to begin:
–by Linda Kossoff
Cancer-affected clients stand a lot to gain from receiving spa services— just as spas greatly benefit from learning how to serve them.