Experts sound off on the importance of refreshing your menu and how to do it strategically.
Your spa menu is the heart and soul of your whole operation. Signature treatments get clients through the door—they're your spa's bread and butter. But, as you know, the beauty and skincare industries are ever-evolving. New trends, technologies and techniques pop up seemingly every day, capturing your clients' attention. No matter how foolproof your menu may be, at some point it's going to need a revamp in order to remain cutting edge and top of mind.
"Our resort is a private club with only 15 hotel rooms, so we have to keep things fresh for our returning clientele; many of them are very wealthy and expect the best of the best," explains Scott Vogel, director of spa and fitness for Spa Internazionale at Fisher Island Club in Miami. Jesus Padilla, vice president of Steiner Spa Consulting, agrees and suggests that spas switch things up regularly—annually if possible. "A spa brand should always remain relevant," he says. "As such, a menu should be evaluated at least once a year."
RELATED: 7 Social Media Tips to Benefit Your Business
For some spas, simply adding a new product or brand will help them rethink their offerings. Such was the case for the Spa at The Ritz-Carlton in Lake Tahoe, California. "We recently introduced a line of natural skincare and beauty products, which was the catalyst for our menu revamp," says spa director Candice Betz. "We used the product rollout as an opportunity to create treatments that embrace our local surroundings—the lake, the trees, the stones and the fresh forest air."
In or Out?
One of the biggest head-scratchers spa managers encounter when reworking their offerings involves selecting which services to keep and which ones to drop. Vogel says the selection and elimination process is an extensive one at the Fisher Island Club, and he is sure to involve both staff and clients. "For our most recent menu update, our therapists helped decide which product lines to test; once we'd narrowed it down, I brought the company's trainers in to conduct a hands-on class with some of our club members to get their feedback," he explains. "Many of them use our facilities on a daily basis; unlike other resorts where guests stay on property for a couple of days, our clients are with us six to eight months of the year—some even year-round. So I want to ensure that everything we offer appeals to our members."
RELATED: Honing Paid Search Engine Marketing
Betz says the Ritz-Carlton's shift to a more nature-minded menu meant they needed to be cutthroat with the services that didn't fit the new earthy bill. "We wanted to get back to basics, so we eliminated treatments that were too complicated or didn't authentically reflect our environment and locale, as well as those that weren't resonating with guests," she says.
A word of warning: Don't get so swept away in the excitement of something new that you forget about the services that have been shining stars for your business. "When refreshing your menu, be careful that the new services do not cannibalize existing ones," cautions Padilla. "Replace underperforming treatments with new offerings, while still prominently featuring your known commodities—services and products that have been proven successful."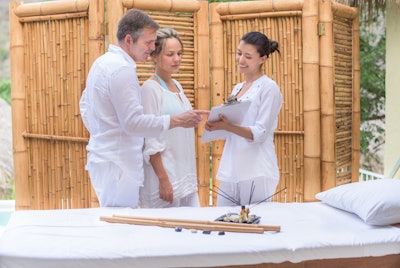 Transition Timeline
Once you've decided to take the plunge and have narrowed down your star lineup, the next question is: Do you unveil the new menu in one fell swoop, or introduce treatments gradually so as not to rock the proverbial boat?
RELATED: 5 Easy Ways to Running a Successful Spa
For Betz, slow and steady is the way to go. "It can be challenging for our team to learn and promote lots of treatments at once," she explains. "Spas run the risk of overwhelming and/or under-preparing therapists if they're not entirely familiar with the new offerings." This cautious approach is also for the sake of her clientele: "It's important not to change too much all at once, or you may disappoint repeat guests who enjoyed your previous products and services," says the spa pro.
Whether you adopt a "one and done" method or roll out your menu in stages, Vogel says timing is everything. "We introduced our new services in the summer because it's typically our slower season; this gave our team members enough time to familiarize themselves with the products and treatments," he says. "But if you're totally changing a menu, it might be better to implement it in stages so that the necessary training and education don't interrupt the flow of business."
To Market, To Market
It goes without saying that shiny new spa services do not magically sell themselves. Once a menu is revamped, it's your job to get the word out and make sure clients test the new goods. "Promoting an updated menu oftentimes begins with pre-promotion," says Padilla. "When possible, let your guests know that new offerings are on the horizon. Launch them with an event supported by an email campaign, and invite journalists and bloggers to review the services and help spread the news." That way, you'll be sure to reap the benefits of all your hard work.
–by Angela Melero