Spark your creative inspiration by following—and learning from—these wellness industry Instagram accounts. 
Instagram—which hosts more than 500 million active monthly users who share 95 million photos and videos every day— allows spas to showcase special treatments, highlight their facilities and offer vendors extra appreciation. Whether you're looking to build your audience or simply want to freshen up your posts, check out these tips and tricks for success from some savvy Instagrammers.
Based in: Scottsdale, Arizona
Handle: @the_phoenician
Followers: 7,200+
Managed by: Gina Lucas, marketing manager
Interact with Followers – "We always reply to users who tag us in their photos," notes Lucas. "Many of our followers live on the East Coast, so we typically post early in the morning. We like to regram and credit clients who take photos of our spa—that cross-promotion definitely attracts a new audience."
Showcase Specialties – "We focus on developing photo opportunities specific to our spa, such as a signature treatment, the facility's unique architecture, a special vantage point or view, a new product or an outstanding associate. You can stand out from the competition by taking advantage of what makes your spa different," she advises.
RELATED: The Boom in Business From Instagram
Based in: Los Angeles
Handle: @koyawebb
Followers: 278K+
Managed by: Koya Webb, Instagram influencer and motivational speaker
Helpful Hashtags – "I believe in posting authentic material that helps serve the health and fitness community. For example, I partner with other yogis for yoga challenges, and we all use the #yoga4growth hashtag so that our followers can engage in the challenges and connect—with each other and with us," says Webb. "I often post a lot of variations of #yoga, such as #yogaaddict and #iloveyoga, to attract new but like-minded followers."
Focus Positivity – "I post images of people who inspire me, like Michelle Obama, Martin Luther King Jr. and Misty Copeland, because I like to showcase mentors and keep
my page uplifting, and I hope it inspires others too. I also like to share memes that make me smile and feel motivated, and I often post content that I believe helps and benefits my audience—I regularly get asked questions about food and yoga, so I create posts based around what people are asking me."
Based in: Orange County, California
Handle: @livelovespa
Followers: 5,700+
Managed by: Lisa Michaelis, CEO & founder
Keep it Simple – "We don't overthink our posts. I know a lot of people work within certain color stories or perfectly planned
flat lays, but we just like to post a glimpse of what we're doing— whether that's visiting a spa, checking out a brand's headquarters, reviewing a new product or attending an event," says Michaelis.
Demonstrate Your Expertise – "I advise spas to avoid utilizing Instagram only to sell products or services. They should also provide their audience with easy, digestible tips that show how they are the experts," she suggests. "For example, a spa could post an image of an esthetician holding a new product with a caption such as, 'Our master esthetician Kristy is loving Éminence's new Fizzofoliant! This powder mixed with a little water turns into a foam exfoliant that contains powerful microgreens for a bright, beautiful complexion!' Such a post showcases the new product and why followers may be interested in it, and it directs them back to the spa in question by including one of their expert staff members."
RELATED: How to Integrate Top Influencers Into Your Spa's Marketing Plan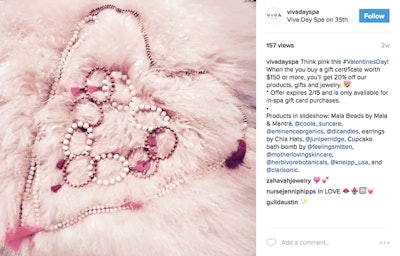 Based in: Austin, Texas
Handle: @vivadayspa
Followers: 2,400+
Managed by: Shannon Mouser, cofounder
Learn From Letdowns – "We look at Instagram as a fun place where people can see what we value—we definitely get more engagement when we take ourselves less seriously," says
Mouser. "So, we mix in fun and cultural posts that express our rock and roll vibe, like a picture from our David Bowie-themed holiday staff party."
Craft Seasonal Posts – "During the holidays, we post more frequently because we want people to think about turning to us to buy gifts for their loved ones; we carry a lot of unique retail items. We always offer holiday-specific spa packages, and we also promote products or treatments that might be appealing for the season."
Partner Up – "Finding real-time, usable images can be a challenge. Because of this, we rely on professional photographers to capture our services and products from time to time, and then we sprinkle those into our social media posts throughout the year," says Mouser. "We also share our vendors' photos and sometimes they return the favor. One of our clients posted an adorable photo of her daughter using COOLA products by the beach. We asked her permission to share it, and soon after we posted her photo, COOLA shared it with the brand's 25K followers and tagged us! Tagging larger brands and having them repost one of your images can definitely help get your name out to a larger audience."
RELATED: How Exceptional Customer Service Can Boost Your Marketing
Based in: Boston
Handle: @g2ospasalon
Followers: 1,200+
Managed by: Christina Gallardo, director of marketing & advertising
Tools For the Taking – "We love the Instagram business account insight tools; they allow us to monitor when our audience is most interactive. If you haven't already, make sure your account is a Business Profile. That way you'll be able to view insights directly from one of your posts—you can see impressions, reach and engagement," says Gallardo.
Share the Love – "Depending on the post, we tag the product brands (especially our vendors), as well as industry community pages—it helps us acquire followers within the spa community. We follow all of our staff members' professional Instagram accounts, and then use their posts to promote their work at the spa. This includes before and after photos of their clients, articles that feature their skills and action shots of them styling hair. The staff loves the exposure, and it keeps our content fresh and different."
Based in: Los Angeles
Handle: @next_health
Followers: 12K+
Managed by: Vanessa Kekina, manager
Go Live – "We regularly repost our customers' content (and credit them), and we've found that our laser facial treatments get huge traffic, especially when we ask followers questions," Kekina notes. "Instastory is another useful tool for showcasing the variety of beauty services we offer."
Recognize Social Meida Opportunities – "We built our Cryotherapy Experience with Instagram in mind. The chamber is encased in a giant glass structure that's immediately visible as guests walk in, and the clear glass allows them to document their experiences on their social accounts. For those who want a little more privacy, we incorporated a tint that can be activated with the flip of a switch."
Based in: Portland, Oregon, and Boulder, Colorado
handle: @thedragontree
Followers: 18.5K
Managed by: Megan Giltz, account manager
Research Best Practices – "It's really important to strike a balance of getting your message across without overwhelming your audience, so I aim to post one to three times per day," says Giltz. "I researched what other users were saying about peak traffic times and followed their suggestions. For instance, in the afternoon I prefer to post at 4:00 p.m.; at 5:00 p.m. most people are getting off work and busy trying to get home."
Make a Plan – "I collaborate with our marketing director to create a monthly social media calendar to help us promote events, announcements, sales, etc. Hootsuite and Later are fantastic tools for scheduling posts in advance."
Engage Your Followers – "Our audience loved our Rituals For Living Dreambook + Planner: We spread the word on Instagram with ads that honed in on how the book can be used in everyday life, and then we shared how others were using it," Giltz explains. "People started tagging us in their own posts with the Dreambook, which was not only heartwarming but really helped grow our numbers. The campaign resulted in a wealth of new customers who not only liked the posts, but were drawn in to everything else we have to offer."
Based in: New York City and Boston
Handle: @skinspanewyork
Followers: 7,200+
Managed by: Katie Werbowski, senior manager
Consistency is Key – "I recommend using a minimum of 10 hashtags. We often use #skinspany, #nyc, #skinspa, #spa, #loveyourskin, and then other hashtags specifically related to the post," says Werbowski. "We also follow users with similar interests, maintain a consistent posting schedule and keep the filters we use mostly uniform to create brand recognition."
Build Engagement – "Clients are always encouraged to tag us in any after- treatment pictures they post; then we repost them, which gives us a regular stream of fresh content. We track the engagement on our posts to determine optimal days and times, which are generally in the middle of the night and near the end of the workday. Because there are fewer posts being shared at, say, 2:00 a.m., ours tend to get more visibility from late-night viewers and shoppers. We do like to occasionally vary our posting times as well, in order to reach different audiences."
Mix it Up – "We share a variety of real-time posts from the spa, feel-good inspirational and wellness-related messages, and branded advertisements for our e-commerce business. The objective is to keep content creative and engaging, as well as educate our audience," the senior manager points out. "A lot of our clients are looking for the latest in body treatments, but they are also seeking at-home wellness and nutrition. It's important for us to engage on all of these topics in order to be viewed as a dynamic source for beauty and wellness."
The International Spa Association (ISPA)
Based in: Lexington, Kentucky
Handle: @ispadoyou
Followers: 3,900+
Managed by: Lynne McNees, president
Don't hold back: "ISPA posts at least every work day, but typically we have so much to share we often post more," says McNees. "We share industry news, as well as member profiles with the hashtag #peopleofispa. We direct viewers to read more by clicking on the link in our bio, which moves them over to our website."
Support your community: "Sharing our members' press releases and news is a win-win for everyone: We get to showcase their beautiful images, and we link to their account to provide them with a great branding opportunity," she adds.
– by Jennifer Purdie