Joining forces with another neighborhood establishment could be just the ticket for promoting your spa.
An efficient and cost-effective way to boost your spa's marketing efforts is to partner with other businesses. Interested? Talk to owners of nearby companies that can provide your clients with a complementary service or product. Or, consider approaching businesses that serve a different target audience— clients who could potentially be interested in, but are currently unaware of, your services.
RELATED: Spotlighting Men's Skincare Services
Before reaching out to another company, however, it's important to think about who your ideal client is—and where they spend their time and money. Potential collaborators should share similar values, have trusted relationships with their own customers, and offer products or services that meet your clients' budgets. Forge the right partnerships and both businesses stand to gain greater exposure and a broader marketing reach.
Kim Knapp, owner of SkinApeel Day Spa in Boca Raton, Florida, says that partnerships are essential to her spa's success. "In today's world you cannot survive and thrive as an island all to yourself. Community outreach and secure, longstanding alliances keep everyone connected and prosperous on many levels," she shares.
RELATED: Build Winning Relationships with Your Skincare Vendors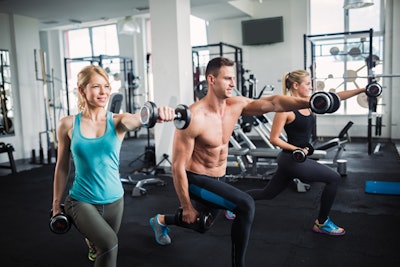 Here are seven potential local establishments that might make ideal partners for your spa.
The Local Gym: Melissa Eppinger is president of Robert Andrew Salon & Spa, a 33,000-square-foot salon in Gambrills, Maryland, that her father founded in 1973. One of its partners is Gold's Gym. "We off er spray tans and massages for its bodybuilders who are participating in competitions," she says. "We also ask them to refer to our massage therapists, even just for muscle aches." The two businesses throw events together: Eppinger has set up tables at the gym's client appreciation events, and when the salon threw a big block party with a radio station, Gold's Gym employees gave a class demonstration. The gym also offers discount memberships to the salon's 160-person staff .
The Neighborhood Jewelry Store: When the jeweller across the street from Robert Andrew Spa & Salon hosts its annual pre-holiday Men's Night, Eppinger sends over an MT to perform complimentary seated massages. She also provides the jewelry store with gift cards for a manicure, which they can give to customers buying engagement rings.
A Boutique Yoga Studio: Yoga Journey Studio is one of the places Knapp partners with, and they distribute promotional postcards and service menus within each other's locations. They also co-host events, and donate or contribute to each other's charitable causes. Twice a year, they offer gift cards to the other's top 10 percent of customers. "We do this with the aim of sharing the crème de la crème of our clientele," she says, noting that it's a great way to introduce her spa and gain interest and goodwill from new target clients. "My spa is holistic, which identifies us as treating the whole being; therefore we need companion industries to truly serve our guests," she explains.
A Popular Golf Course: Denise Dubois, founder and president of Complexions Spa for Beauty & Wellness in Albany and Saratoga, New York, has partnered with Saratoga National Golf Club. At Christmas, they bartered $100 gift cards—the golf club owner gifted them to select clients, and Dubois threw in a golf club gift card when someone purchased a higher value spa gift card. Clients, she says, are excited by the added value: "Often men travel with their wives, and its great—when the guys are playing golf, the wives can have some spa time."
That Trendy Cigar Shop: The Menzone barber lounge at Robert Andrew Spa & Salon partners with a cigar shop located in the same shopping complex. "Guys can come in, unwind, watch TV and relax, and we sell the shop's cigars within that space," says Eppinger, who clarifies that customers don't actually smoke cigars in her spa's lounge. "In exchange, the cigar shop retails our gift cards and distributes promotional Menzone postcards to publicize the space for us."
The City's Sports Team: For the past 18 years, Robert Andrew Salon & Spa has been the official salon and spa of the Washington Redskins cheerleaders, and Eppinger sends several stylists to accompany them on their annual five-day calendar photo shoot. The stylists do the girls' hair for the photos and in return, the spa's logo appears on the Jumbotron, is mentioned at every home game, and on occasion is shown in videos airing at games. "This is an excellent partnership simply for the fact that they announce our spa in front of 100,000 people every year," explains Eppinger. "Plus, they include our logo in every calendar and on their social media."
A Nearby Pilates Studio: Dubois partners with a Pilates studio, too, and they cross-promote with each other's gift cards. People can purchase a "special value" package from her spa, which includes a treatment, a private one-hour Pilates evaluation and session, plus other fitness and wellness-oriented activities. "When we create partnerships, it's always about building brand awareness," says Dubois. "It has to be a win-win for both entities."
–by Leslie Lang