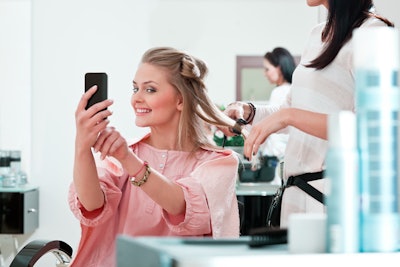 Plug in to the power of pictures by adding Instagram to your social media marketing strategy.
Instagram made its debut on the social media stage in 2010. Six years later, according to a recent report on Adweek.com, the image-driven platform is a go-to for more than 400 million users worldwide (who share about 70 million mobile photos on Instagram daily. This growth is no fluke but rather, clear evidence that everyday people love to share images with their friends and family. And it didn't take business owners long to see the potential of Instagram to call attention to their offerings and thus grow their customer base.
The truth is, Instagram is making huge waves for businesses of all kinds, and spas are no exception. Whether you've grabbed images of your facility's cool new hydrotherapy tub, cozy relaxation area or nifty herb garden, or your employees are snapping shots of their latest creations, there's no easier way to share them with the world than through this social media juggernaut.
Thanks to eye-catching filters and clever editing tools, anyone with a camera phone is able to produce an interesting and great-looking image. Like Twitter and Facebook, the platform also utilizes hashtags (represented by the pound sign) for trending topics and easy searching.
"Nowadays, people are drawn to pictures and videos instead of text, which is what makes Instagram so popular," says Allison Walker, marketing coordinator at Pennsylvania-based marketing firm Borelli Designs. "Companies are able to get their message across using images and popular hashtags that relate to the spa's brand."
One firm Instagram fan is Alex Swanson, the director of marketing for Salon Spa W in Des Moines, Iowa, who notes that the visual nature of the beauty market lends itself to to the platform. "More than ever, consumers are checking us out on social media before booking an appointment, so it's important that we network with them through Instagram. It's beautiful and fun—which is exactly how we feel about our salon and spa! As part of the beauty industry, there's no better way to share what we do than through images."
Setting up an Instagram account is simple—the app can be run on a tablet or smartphone, and once a username has been picked, you can upload a profile photo and a short description of your business. If you manage a personal profile, it's easy to toggle between the two accounts.
Rules of Engagement
Instagram is currently the best social media app for engagement—by far. A 2014 study by Forrester Research looked at the ratio of interactions to total brand posts across seven major social networks, and found Instagram's engagement ratio to be 60 times greater than Facebook's, and 140 times greater than Twitter's. "Liking" an Instagram photo takes very little time or effort, and the platform's newsfeed is simple and stream-lined, as opposed to the clutter of a Facebook feed. This makes it easy for your followers to simply tap your photo and like it. In other words, Instagram followers aren't just passively viewing, they're engaging by liking your photos, leaving comments and getting to know you as a business.
As Instagram has such high engagement, it can be a great tool to point followers toward your other accounts as well: You can promote your Twitter and Facebook accounts by posting them as an Instagram caption once a month.
Consider following beauty trendsetters or other local businesses in your area, and make sure to engage by liking and commenting on their photos. One major perk of Instagram is that you can follow other users and connect with them easily. This will get your spa's name in front of more people and hopefully lead to more Instagram followers for you as well.
Lloria Ross, manager at AQUA Spa in Duck, North Carolina, joined Instagram "because it has such a large and diverse database of users worldwide, and could be used as a free marketing tool for our spa," she says. "We also chose it because of its widespread utilization of hashtags, which increase the chance of potential clients finding our business."
A popular hashtag that AQUA utilizes is #spalife: If someone clicks on any image with this tag, they're able to see AQUA's posts and anyone else's that use the hashtag. "We hashtag any words related to the post in an effort to show users what we have to offer—while also intriguing them enough to visit the spa," Ross explains.
Emotional Reaction
On any social media platform, the best way to gain followers is by posting compelling content. What do you want followers to think and feel when they see your Instagram posts?
"We want clients to see our pictures and imme- diately feel that they should be relaxing with a treatment at our spa," Ross says, adding that that's one of the reasons she focuses on Instagram: Images are more evocative. "Because many people are drawn to visual stimulation versus reading long articles, we use Instagram to post photos of our beautiful facilities, our view, tantalizing promotional setups, etc."
Take time to consider your spa's most visualy appealing aspects. For AQUA, waterfront vistas are a strong emphasis. "When it's a beautiful day on the water, we make a point of posting a picture of the view from our pedicure chairs," says Ross. And if it's a gray day? "We'll post a spa picture that reminds viewers it's the perfect time for an indoor treatment," she says.
Wherever your spa is situated, beautiful, polished and professional looking photos can be achieved by making use of Instagram's filters and lighting tools. The platform makes it incredibly easy to brighten or darken images, change their color (to black and white, for example), or blur or sharpen them. What used to require Photoshop can now be done with a few taps of your finger. A word of caution: When posting photos to Instagram, make sure to keep a consistent "look" to your page. When people glance at your Instagram feed and see your photos all together, they should get a concept of your brand, not a mish-mash of differently edited photos.
Videos can be even more compelling than still images, and Ross reports that AQUA is successfully utilizing Instagram's video hosting capability. "We recently posted 30-to 60-second videos that provide mini virtual tours of our facilities," she says. "These allow viewers to see themselves entering the spa and walking into the changing area and then into the serene waterfront lounge. They're able to visit our nail room, take a virtual seat in a pedicure chair overlooking the water, and 'feel' the relaxing environment through the screen. Such engagement may remind viewers it's time to treat themselves to a spa day!"
Before choosing an Instagram post for Salon Spa W, Swanson likes to stop and think about what followers will get the most value from. "What drives my posts is my excitement when I see amazing work by one of our spa specialists or stylists," Swanson said. "It may be a gorgeous mani design or a blowout that gives me hair envy. The creative process is fun and our followers love to see what we're doing in the salon as a preview of what their service can be."
Snappy Seconds
Image based and easy to use, Instagram has won the hearts of many frazzled business owners. "The beauty of Instagram is that it isn't time consuming, outside of any brainstorming or prop setup," Ross points out. "It takes just minutes to snap a photo, write a quick description, select some hashtags and post." Swanson agrees, adding that she spends a total of about three hours per week planning and executing Instagram shots.
However, experts warn not to make the mistake of thinking that Instagram doesn't need steady attention; it is important to keep your profile well maintained. "If a company decides that they want to use Instagram for marketing purposes, they must keep their profiles up to date," Walker urges. "This means that their profile images and company information should always be current, and they must post regularly. At Borelli Designs we encourage clients to post at least three times a week, but frequency can increase with their number of followers."
– By Claire Swinarski