By introducing clients to the natural skincare benefits of vinotherapy, spas are putting a new spin on happy hour.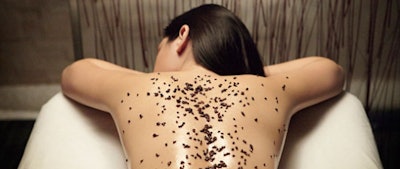 Located in a glorious countryside dotted with vineyards, Keswick Club in Charlottesville, Virginia, added wine-based treatments to its spa's menu after its director of health and wellness, Colette Long, researched and became convinced by the merits of vinotherapy. "The components in the acids of the red wine grapes strengthen microcirculation and help retain skin's elasticity," enthuses Long, who encourages spas to work with nearby wineries to create offerings that appeal to wine drinkers and spa lovers alike. During the local grape harvest season, from August through November, she sees a spike in bookings for packages like The Keswick Reserve (180 min./$365), which includes a glass of red wine and five treatments: a grapeseed oil massage, Shiraz body scrub, red wine body mask, Pinot Noir facial, and Shiraz face and body smoother.
Read the full story in the DAYSPA October Digital Edition.