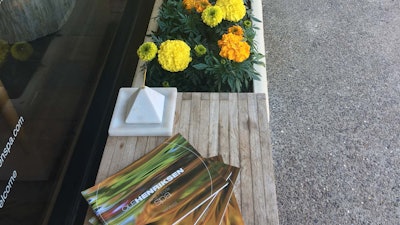 I do my best to take care of my skin during the summer, but what with the sun, heat, chlorine and—this year—humidity, I can always use a little help. Enter Ole Henriksen Face/Body Spa in West Hollywood—a staple on Sunset Plaza that was unveiled in 1983 by renowned Danish cosmetician Ole Henriksen.
I was scheduled to receive the Red Carpet HydraFacial (80 min./$375), an intensive service featuring the brand's eponymous products, a number of device-delivered therapies and three
HydraFacials
. My blemish-prone skin was actually pretty under control for this visit; I mostly had some mild rosacea-related flushing, likely due to the weather. (You know it's hot, even for Southern California, when everyone who enters the spa immediately thanks the front desk staff for sharing their A/C.) I let my esthetician for the day, Gary, know about my concerns and he decided the appointment would focus on clearing and healing.
With the steam at full blast, Gary began by using a three-part cleanser: It started as an oil, then became a gel and finally turned into a milk. He drove it deeper into my skin with a Clarisonic, followed by a lymphatic massage and acupressure in my temples, the base of my head, shoulders and neck—my very first acupressure experience, and an instant favorite.
Then came the lymphatic drainage device, which Gary laughingly referred to as "the sniffing puppy" because of the sensation caused by its gentle on-and-off suction. Two cups, one for each side of my nose, were placed on different areas to promote healing and bacteria disposal. This was followed by the strangely relaxing sound wave muscle stimulation, meant to promote cellular repair and renewal.
Next, Gary performed diamond tip microdermabrasion (crucial after all the time I'd been spending in the pool and sun) and an exfoliating HydraFacial—paying special attention to my nose, where I'm the most blackhead-prone—followed by a Japanese oscillating facial scrubber. Finally, he carried out gentle extractions to rid me of any remaining skin congestion before applying a 20 percent AHA peel. He made sure to fan my face while the peel worked as it was a little intense, and then brushed on a soothing, leave-on chamomile mask. Gary massaged my face with ice to cool any leftover inflammation from the peel, switching to a heated face massage to "melt in" the mask.
My second HydraFacial of the session was a stem cell formulation, followed by red light therapy to "bake" it in, and blue light (which was cold to the touch) to calm and heal my skin. Gary performed an antimicrobial oxygenating treatment to push the stem cells in deeper, and then came the final, earthy-smelling HydraFacial, a serum containing hyaluronic acid; vitamins A, C and E; white tea; and mushroom.
The service complete, all I needed was a quick swipe of toner, moisturizer and SPF, and I was ready to go! Over the next few days, my now super-smooth and clear skin continued to heal, bringing my face back to its pre-summer, balanced state.
—Laura Waldon